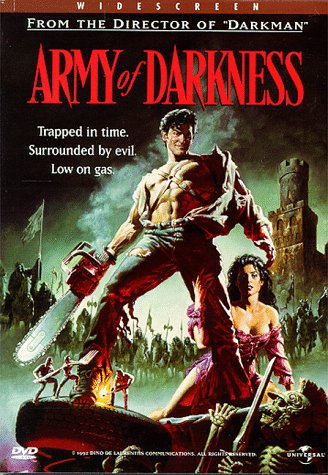 Trapped in time. Surrounded by evil. Low on gas
SCORE: 4

Beers


I really should rate this movie a 1, I really should. It's loaded with some of the best one lines that the writer
of "If Chins Could Kill" could utter. His book is on sale by the way through Amazon or any major on line retailer. He's quite possibly my favorite "B" actor, or quite possibly any actor alive. I've even got a signed Postcard from him! From back when he used tosend them out free of charge. Talk about fan love! Anyways back to the flick, this is basically an offshoot sequel to Evil Dead 2, one of the damn funniest horror spoofs ever to grace any screen. Spiderman Director Sam Raimi was at the helm of this flick before he mainstreamed and went for "For the Love of the Game", and "Spiderman". Granted I have to say Bless him for those, because being both a comics fan and baseball fan I enjoyed both. Then the "Quick and the Dead". Shit look at my review to see what I thought! However Army of Darkness was technically the third in the series but
was by far the greatest hit, granted the budget for Army was about 5 million I think. But with Bruce doing his great thing, and with Embeth Davitz doing her thing we have a great fantasy horror flick
that not only doesn't take itself too seriously but does quite the opposite with a great result. There are too many scenes in such a short movie to mention that were greatness so I'll just end it with
you need to see this movie if you're a fan of Bruce, Sam, Embeth, or one of the genres in general, you shouldn't be disappointed.