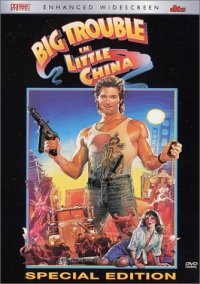 Some people pick the darnedest places to start a fight!

review by

Darth Buzz
Picture: 9
Sound: 8
Menus/Extras: 9
Overall: 9
Notes: The picture is in anamorphic widescreen with a 2.35:1 aspect ratio and looks better than ever. I owned the Laser Disc before this and it is totally worthless now, the DVD is better in every way. The sound is also better than any previous version, and it's in 5.1 Dolby Digital and DTS. I don't have the ability to listen to the DTS track but I can only assume that it's better. The extras are sweet. They include feature length commentary from John Carpenter and Kurt Russell that is like The Thing commentary and is fun to listen to because you can tell that John and Kurt enjoy working together and share a bunch of stories and laughs that are insightful to the making of the film. Disc 2 has deleted scenes, a featurette, interview with Richard Edlund, still gallery, production notes, music video, and trailers/TV spots.
---

Darth Buzz
SCORE: 8

"Son of a bitch must pay." Big Trouble in Little China is the great Kung-Fu film spoof that was kind of ahead of its time. (They even talk about that in the commentary track on the DVD.) Back when this film came out in 1986 the Kung-Fu genre was quite a bit more underground than it is today. More current films of Jackie Chan's and other mainstream Kung-Fu films like Crouching Tiger, Hidden Dragon have brought more fans into the fold. This movie is a spoof of that (at the time) underground genre and that along with poor promotion led to this films weak showing in the box office. Like many other underground movements though, this film started to show its fan base once the film made it to home video. Today there is quite a following of this film and for good reason... it's funny as hell. Kurt Russell plays our bumbling clueless hero Jack Burton who winds up way over his head without knowing how he got there, and most of his humor comes from his inability at dealing with any situation and his blind luck. Most of the Chinese characters are funny because of their stereotype Kung-Fu roles. Victor Wong as Egg Shen is great with all is facial ticks and wise sayings. "That's black blood of the earth. You mean oil? No, I mean black blood of the earth." The three main bad guys, Thunder, Rain, and Lightning are equal parts badass and funny. Overall the fast pace, the chaotic nature, and the great sense of humor of the movie all come together to make a movie that is really a one of a kind type film. If you like action, Kung-Fu, and comedy all rolled into one give Big Trouble in Little China a watch.