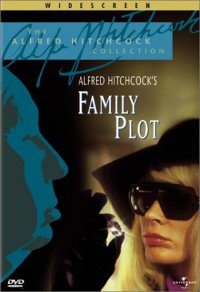 Jurassic Mark
SCORE: 3

Stars

Family Plot is one of those videos you can never find at Blockbuster. Blockbuster would rather stock Leprechaun 4 than Alfred Hitchcock's last film. So, I was excited last night when Family Plot showed up on cable's American Movie Classics. AMC is a fine channel, and I was pleasantly surprised they aired the widescreen version. However, right before the opening credits, the ominous "This film has been modified for content" appeared on my television. Why? The movie is rated PG. It was one o'clock in the morning.

Anyway, Family Plot is a good movie, but differs in many ways from Hitchcock's other works. Family Plot isn't very sophisticated. It doesn't star elegant actors like Carey Grant or Grace Kelly. The movie lacks Hitchcock's penchant for grand backdrops (Mount Rushmore, the Golden Gate Bridge, the Albert Hall, etc). The visual look of the film is below Hitchcock's standards. Family Plot is even different in tone. It is the rare Hitchcock comedy.

Family Plot is the story of two couples who intersect and create a big mess. Our heroes are Blanche (Barbara Harris) and her boyfriend George (Bruce Dern). Whacked-out Blanche enlists George as an amateur sleuth in search of a missing person and a ten thousand dollar reward. I've never like Bruce Dern. Until now the best thing he ever did was sire Laura Dern. But, I like him in Family Plot. Dern is funny. He drives around and pesters people with annoying questions. The preposterous pipe he smokes adds just the right comic touch.

Eventually Dern's investigation threatens to uncover a sinister kidnapping couple Fran (Karen Black) and Adamson (William Devane). Naturally, we can't be having any of that. Family Plot is reasonably suspenseful. Mostly, however, Hitch keeps the tone light. There's a car (sans breaks) downhill slalom scene that made me laugh.

Family Plot succeeds because it's pure story. I think that's what made Hitchcock the filmmaker that he was. He always appreciated a good story. I think if he wasn't filming a good story, he was reading one. Family Plot would have been better with a better cast (although Dern won me over). All of the director's old standbys had become old standbys by 1976.

I've given Family Plot a favorable rating. But, this might be one that is best suited for Hitchcock affecianados.