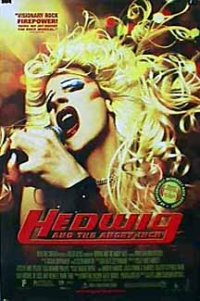 An anatomically incorrect rock odyssey.

Jurassic Mark
SCORE: 4

Stars

I felt like I was on drugs while I watched Hedwig and the Angry Inch. The movie confounded me. Hedwig left me in a loopy daze, mindlessly humming the music, trying to digest a trippy, bitter, visceral comedy.

Peter Travers of "Rolling Stone" has called Hedwig and the Angry Inch the "best rock movie ever made." Since Hedwig is a fictional band, I went to the theater expecting a This is Spinal Tap clone. Instead, I watched an original film (funny, but with a mean streak).

After watching Hedwig, many people will want to buy the soundtrack. But, I felt like writer/director John Cameron Mitchell's performance of the songs (I don't know or care if he was dubbed) was tantamount to power of the music. He's an amazing on-screen presence. Mitchell reprises his role from the off-Broadway hit, and delivers my favorite role to date (10-21-01) as far as Oscar contention for Best Actor.

The less said about Hedwig the better. The movie is full of surprises. It tells a provocative story utilizing flashbacks, animation and song lyrics. I know why Travers of "Rolling Stone" admires this film. Hedwig is most comparable to Pink Floyd The Wall and The Commitments (both directed by Alan Parker). Like The Wall, Hedwig and the Angry Inch uses unconventional story telling, but is more cogent than Parker's earlier movie. Yet, the live performances reminded me of the raw sound of The Commitments (another four star film).

All this being said, Hedwig is much more ambitious. This is a difficult story. I can't fault a film that is outrageously funny, has four or five great songs, and contains a poignant performance from an Oscar caliber actor.