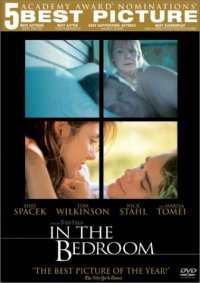 A young man. An older woman. Her ex-husband. Things are about to explode...

Jurassic Mark
SCORE: 3½

Stars

In the Bedroom is generating Oscar buzz. It might receive as many as five nominations: Best Picture, Best Director (Todd Field), Best Actor (Tom Wilkinson), Best Actress (Sissy Spacek), and Best Adapted Screenplay (Robert Festinger and Todd Field). Five is the max. Two is more likely.

For those who don't care about awards, on to the movie. The less you know about In the Bedroom, the better. I will not discuss the plot. I will only say that Field throws us a plot turn (as opposed to a plot "twist"). The turn is so abrupt that I had to gather my senses and mentally prepare myself for a different kind of movie. Critics of the film will wonder if the new path has been shit on by made for TV fodder. Fields and company escape with their sneakers clean.

Like many of Stanley Kubrick's films, In the Bedroom can easily be divided into three distinct parts. Each part is whole and emotionally dissimilar to the other two. I'm not saying that Festinger and Fields were inspired by Kubrick. All I know is that our two major characters Matt Fowler (Wilkinson) and wife Ruth (Spacek) journey through a distressing, non-contiguous arc. In act two, Matt and Ruth could break your heart as long time partners whose relationship is in jeopardy of being irrevocably shattered . In act three, who knows? In the Bedroom doesn't have an easy out for Matt and Ruth. But, we know they will never return to the couple they were in act one.

The other day, I told my friend that I measure movies partly based on my gut-feel of "am I going to see this again, and, if so, how soon?" I think I'll see In the Bedroom again. But, not for awhile. In the Bedroom is not as good as similar dramas such as To Live, The Ice Storm or You Can Count on Me. Then again, those are three of my top fifteen movies of all-time. I won't see In the Bedroom anytime soon because it's painful. The movie isn't about the strength and continuance of family. It's about a family that may survive.

Don't see In the Bedroom expecting Hollywood glamour. Don't see In the Bedroom unless you are willing to watch characters drink out of a glass while they probably feel more like chewing the glass. And by all means, don't see In the Bedroom expecting a movie where loose ends are tied together and characters actions don't have repercussions.