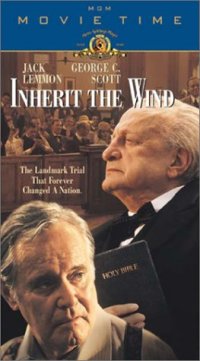 The Landmark Trial That Forever Changed A Nation.

Jurassic Mark
SCORE: 2

Stars

Inherit the Wind (1999) is a remake of the 1960 film of the same name. Both movies are based on the famous Scopes/Monkey trial of 1925. The original leads were prosecuting attorney Fredric March and defense attorney Spencer Tracy. Our modern version stars George C. Scott (in his last film) and Jack Lemmon respectively.

The history of these four actors is impressive. March was nominated for five Academy Awards, winning two: Best Actor for Dr. Jekyll and Mr. Hyde, and The Best Years of Our Lives. Tracy (highly respected amongst his peers) was nominated for nine Oscars: winning Best Actor for Captains Courageous and Boys Town. Scott received four Academy nominations and won Best Actor for Patton. To date, Mr. Lemmon has been nominated for eight Oscars and has won two: Best Supporting Actor for Mister Roberts and Best Actor for Save the Tiger. Four actors, 26 Oscar nominations.

It's not just accolades that impress me about March, Tracy, Scott and Lemmon. I'm also a personal fan of each of them. I think they were attracted to Inherit the Wind because the movie is like actor's caviar. Unfortunately, it's a filmgoer's baloney sandwich. Personally, I'm tired of films like Inherit the Wind. In recent movies such as Pollock and With a Friend Like Harry, we witness great acting. It seems like that should be enough. But, I've seen too many lackluster films that contain one (or even two) Oscar caliber performances.

Earlier this year, I saw a film called The Pledge. Many critics called it a masterpiece. I was annoyed because I saw The Pledge as nothing more than a vehicle for actors like Benicio Del Toro, Vanessa Redgrave, Robin Wright and Jack Nicholson. It's as if director Sean Penn worked ass backwards; he wanted to make a movie with certain actors and then found a screenplay where he tried to squeeze them in. I feel the same is true for 1999's Inherit the Wind. However, I look forward to going back and renting the 1960 version to see how it holds up today.

Oh, one more criticism I can't let slide. The new Inherit the Wind actually ends with a shot of Justice (blindfolded holding the scales). This is the heavy-handed equivalent of the director bursting through your door and slapping you upside the head with a copy of Origin of the Species.