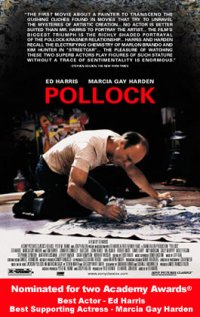 Jurassic Mark
SCORE: 2

Stars

Rarely have I conversed with the movie screen. However, in Pollock, the title character does something so incredibly stupid that I involuntarily exclaimed, "What a fucking idiot!" I'm sure any member in the audience within six rows heard me. I was not sorry. The film made me do it.

Pollock stars Ed Harris in a film that should win him an Oscar for best actor. He's brilliant as the alcoholic, clinically depressed, wretched painter. We see Harris with the DT's. We see Harris emotionally detached from his surroundings. We see Harris belittle anyone who tries to help him. And, we see Harris splatter paint on canvas: creating on-screen a convincing portrayal of an avant-garde artist intense at his work. By the way, Harris also directed the movie.

Harris has wanted to direct and star in Pollock for a long time. He is passionate about the project. He even dedicated the film to his parents. Unfortunately, Pollock fails because it breaks two laws of filmmaking. In his drive to portray the real Jackson Pollock, Harris unleashes a snarling, bitter, egotistical, base, thoroughly unlikable man who was also (according to a witness) a murderer. Show me a movie with an unredeemable character who is in almost every scene, and I'll show you a failure every time. I can think of villains ranging from Darth Vader to Michael Corleone who had rosier dispositions than Jackson Pollock.

I was also bored during Pollock (unforgivable sin number two). I knew how the movie was going to end. Jackson was going to wrap his car around a tree. What I didn't know is that in his destiny with unforgiving foliage, he also had two women in the car with him. Jackson and one of the girls died, and the other (his mistress) survived. Oh yeah, he was cheating on his wife. The only thing his wife did throughout the film was give him a reason to live every day.

If you love Ed Harris, Pollock is must see material. Otherwise, Pollock is a self-indulgent pet project created by a talented actor.