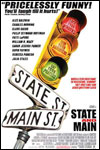 Jurassic Mark
SCORE: 3½

Stars


State and Main is the new comedy from David Mamet. Mamet's dialog has become like an old friend to me. If you've seen The Spanish Prisoner, Homicide, or House of Games, you will instantly recognize the rhythm of his words that are always referred to by critics as "staccato." In the opening moments of State and Main, I eased back in my chair and just enjoyed that rhythm.

Not all actors can read Mamet dialog. So, he tends to hire a lot of the same people. These actors are also like old friends: William H. Macey (Homicide, Oleanna), Rebecca Pidgeon (Homicide, The Spanish Prisoner, The Winslow Boy) and Alec Baldwin (whose one scene in Glengarry Glen Ross is nothing short of a perfect marriage of acting and writing).

State and Main is a movie about the making of a movie in what can only be described as a quaint, small town. Macey plays the director. His character would be pure evil, except that the producer (David Paymer) makes him look almost kind. Macey has some great lines. When a member of the crew calls him a liar, he says, "No, I just have a gift for fiction."

The busy character actor Philip Seymour Hoffman plays the writer. He falls for a local girl played by Rebecca Pidgeon. And, I have to say, State and Main really becomes Pidgeon's movie. She absolutely jumps off the screen with charisma. Pidgeon would definitely be one of those people I would pick in those theoretical "who would you invite to dinner" games.

The conflict of the film involves the lead actor (Alec Baldwin) and his fling with a young girl (Julia Stiles). Even though Stiles initiates the affair, Baldwin has a history of scandalous relationships. When confronted about his penchant for teenagers, he replies, "Everybody's gotta have a hobby."

But, the plot is inconsequential to the success of State and Main. You'll remember Macey and Pidgeon. You'll also feel like you got a little bit of the Hollywood "inside scoop." Let's just say that I'll never look at an Associate Producer credit the same again.