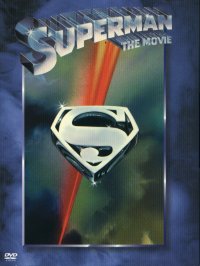 You'll Believe a Man Can Fly!

review by

Darth Buzz
Picture: 9
Sound: 8
Menus/Extras: 9
Overall: 9
Notes: I don't think the DVD version of Superman could be much better. The picture is near perfect. One wouldn't suspect that the film was made in 1978 by the look of this DVD transfer. The soundtrack has never sounded better than this. Screw all those movie purists that want the original stereo 2.0 soundtrack. The extras on the disk are all pretty damn good too. A real interesting watch.
---

Darth Buzz
SCORE: 9

This is one of those childhood films that you go back to and are surprised that it's just as good as you remember from your youth. In short, Superman kicks ass. I saw this for the first time in 1979 (the film came out Christmas 1978) in the theater, and I have since seen it many times and was entertained every time. It stands up very well over time. One of the single most important elements of the film that really made it work for me was the performance of Christopher Reeve. At the time the film was made they got Marlon Brando and Gene Hackman as the big guns for the film, but over the long term I think it is Christopher Reeve that made the film work. Not anyone could have put on that suit and pulled off a fairly straight performance. (Most of the camp in the film was delivered by Gene Hackman and Ned Beatty.) Today when I think of Superman, I think of Christopher Reeve. That's high praise for an American icon.
---
AWARDS