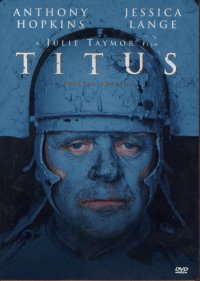 The fall of an empire. The descent of man.

review by

Darth Buzz
Picture: 9
Sound: 9
Menus/Extras: 10
Overall: 9
Notes: This is how DVD is done. The transfer of Titus is nearly flawless. The picture is in anamorphic widescreen with a 2:35:1 aspect ratio, and it looks fantastic. The sound is Dolby Digital 5.1, and sounds great. The extras is where this disk really shines with a very interesting director's commentary (Julie Taymor), a commentary with the music composer Elliot Goldenthal, 49 minute documentary, a Q & A with Julie Taymor, and trailers. The bonus is that most all of these extras are interesting and add to the interpretation of Titus Andronicus. I don't often comment on the menus either but these menus are cool, very well done.
---

Jurassic Mark
SCORE: 4

Stars

Titus is the kind of Shakespeare production that I've always been looking forward to. Even in productions I've enjoyed (Richard III, Othello, etc.) I never felt involved with the whole story.
Titus, however, is easy to follow but just as ambitious as the aforementioned movies. Titus is a big production with a big performance from Anthony Hopkins. Also brilliant is the actor who played the Moor--Harry J. Lennix. I've never seen him before, but he held his own against a cast that includes perennial Oscar nominee Jessica Lange.
Titus is a violent, vengeful tale. It is based on an early Shakespeare play called Titus Andronicus It makes Richard III (1995) look like a Disney adaptation.
---
AWARDS