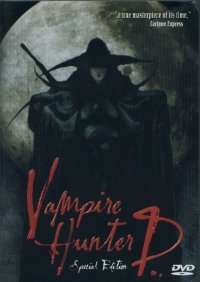 review by

Darth Buzz
Picture: 6
Sound: 5
Menus/Extras: 4
Overall: 5
Notes: This is a Pan and Scan delight. I don't know what the original aspect ratio of this film was but this picture could use some work (aspect ratio aside.) The sound on this DVD is what happens when a movie has a mono or stereo sound track and then a cheesy company turns it into 5.1 Digital Surround. It sound like half the movie is happening inside a tin can. There's a lot of echo going on. I don't think that was the original intent... although I could be wrong. The extras are no great shakes either. In my experience this is kind of the norm for an anime DVD. It could be a whole lot better.
---

Jurassic Mark
SCORE: 3

Stars

I'm looking forward to seeing Vampire Hunter D again. The film is a strange mix of East meets West. In fact, you could argue that Dragon Hunter D is part samurai tale, part spaghetti western (with a horror theme aimed to please the bourgeois, naturally).

Alright, I confess. I've only seen perhaps four anime films. Each one (including the spectacular Princess Mononoke) was a complete culture shock. Disney has conditioned me to expect certain things from animated pictures. Perhaps The Simpsons and South Park should have prepared me for anything. I guess my point is that feature-length Japanese anime can't be arbitrarily thrown into the family entertainment category the way that the majority of American animation can (be it the mouse, DreamWorks SKG or Pixar).

I liked the imagination behind Vampire Hunter D. Our main character "D" is sort of like the Clint Eastwood character from Sergio Leone's The Good, the Bad and the Ugly. "D" doesn't talk much. His motives are questionable. He uses a long sword instead of a six-gun. Oh, and he has supernatural powers and his left hand talks to him.

"D" lives far in the future. Earth is ruled by the Aristocrats (a race of vampires). "D" is recruited by a young woman to kill the bad guys. The main villain has a host of strange minions of varying species. Many of the characters look Western. The Aristocrat resembles John Forsyth with a square jaw. Our love interest has blond hair. Yet, Vampire Hunter D never feels like a Western film.

The animation in Vampire Hunter D ranges from bad to stunningly effective. The art work seems designed to create atmosphere and style rather than realism.

Most of all, Vampire Hunter D, encourages me that there is a well established art form waiting for me to uncover.
---

Darth Buzz
SCORE: 5

D mother fucker D. That guy should go to a fashion designer for a makeover. He needs it. This was an old school anime that needs to be forgotten. Some old school stuff still rocks like Star Blazers and Robotech, but Vampire Hunter D doesn't make the grade. It was about an 1 hour 15 minutes and it felt like 6 or 7... BORING!!! I didn't have a problem with the artwork but it wasn't anything to write home about. The story and the characters were ass though. I watched an advertisement that they put on the DVD for the Vampire Hunter D game for the Playstation, and that looked much better than the move... maybe I should try that instead. Jurassic Mark is correct there are many anime out there that are ready for him to uncover but this one needs to remain buried.
---
AWARDS