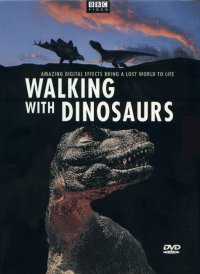 review by

Darth Buzz
Picture: 10
Sound: 7
Menus/Extras: 9
Overall: 9
Notes: Stunning transfer in anamorphic widescreen with a 1.78:1 aspect ratio. The picture doesn't get much better on DVD. The sound is adequate but not amazing and is in Dolby Surround. If the sound had been 5.1 with more kick in the bass the sound would have matched the visuals. The extras on the disk were also fantastic great menus and the 50 minute making of documentary is about as interesting as the show itself.
---

Darth Buzz
SCORE: 10

Where do I start? Anywhere would be a good place because it's all good. This "documentary" on dinosaurs grabs you in the first 5 minutes and never lets go. I say "documentary" because that is how the show is presented. We just get to see dinosaurs (with the help of visual FX) do their thing in the wild, same as if this were a PBS documentary on lions or tigers. Walking with Dinosaurs consists of 6 episodes with each episode focusing on a different group or time period of dinosaur. You get to see the dinos trod, swim, fly, crap, eat, and live in vastly different climates. All the episodes are varied enough that you never get tired of watching and you feel like your learning at the same time and that is a real trick. An added bonus is that the series is narrated by Kenneth Branagh who does a fine job.
Also included with the DVD version is the Making of "Walking with Dinosaurs." The making of documentary is almost as interesting as the show itself and reveals in a good amount of detail how they come to some of the conclusions that they did to portray the dinos accurately, or at least as accurate as one can get with subject matter of this age. Also the documentary really helps to show how much work went into doing this program right.
So if you can't tell I REALLY liked Walking with Dinosaurs so go watch this. TV doesn't get any better than this, not to mention that this is educational TV.